whealthcare
The Intersection of wealth and health
Jason Karlawish, MD
Jason is a professor of Medicine, Medical Ethics and Health Policy, and Neurology at the University of Pennsylvania Perelman School of Medicine. He is also co-director of the Penn Memory Center. His research focuses on neuroethics and policy. He has investigated issues in dementia drug development, informed consent, quality of life, research and treatment decision-making, and voting by persons with dementia. To learn more about his research and writing, visit www.jasonkarlawish.com.
Dr. Karlawish introduced the concept of Whealthcare in a 2015 Forbes column titled, "Why Bankers, Financial Analysts And Doctors Need To Start Working Together."
What is Whealthcare?
Whealthcare (noun):
a paradigm of merging the banking and financial sector, or wealth, with healthcare
a strategy to help slow the growth of elder financial abuse
Penn Memory Center, Federal Reserve challenge financial leaders to take steps to protect wealth of older adults
By Joyce Lee
The Penn Memory Center and the Federal Reserve Bank of Philadelphia jointly challenged leaders of the financial sector to protect the wealth of older adults.
Bringing together representatives from major banks, as well as key stakeholders from the legal and medical fields, the Conference on Aging, Cognition, and Financial Health focused on improving and safeguarding the financial health and wellbeing of older adults, especially those with cognitive difficulties like mild cognitive impairment and dementia.
The Baby Boomers make up the largest generation in history moving into retirement, and also a generation living longer than any other before them, said Patrick Harker, President of the Philadelphia Fed, in his opening remarks.
Elder financial abuse and exploitation "is not a problem that stands in isolation," Harker said. "It is woven into other segments of the economy."
In the wake of increasing reports on financial fraud, the financial health of older adults has become an issue of national attention. Cognitive problems that arise in the course of aging can make one more vulnerable to financial abuse and exploitation, said PMC Co-Director Dr. Jason Karlawish.
The decline of fluid intelligence, the ability to learn new things, is one characteristic of aging, Dr. Karlawish said. Both this "cognitive aging" and neurodegenerative diseases like Alzheimer's disease can lead to problems of "higher cortical function," which can make tasks of daily living such as managing money and making sound financial decisions more difficult.
Renee Packel, a victim of financial mismanagement, talked about how the poor financial decisions of her husband, who was later diagnosed with Alzheimer's disease, led to the disappearance of all of their savings. "We had [to hire] a forensic accountant, because there was no way to know what happened to the money," she said. "The accountant couldn't give us an explanation either."
Packel had to sell the couple's house and get a job, which she hadn't held since before her first child was born. "It was a really horrendous time," she said. "I was never so frightened."
Packel's challenges are not rare. Initiatives led by the Department of Justice and the Administration for Community Living (ACL) are now trying to track the prevalence of financial abuse and exploitation of older adults. The earliest estimates of financial exploitation cases released by the ACL puts the number at more than 42,000 cases in 2016, though these were only the ones tracked and reported by Adult Protective Services in each state.
In a video shown at the conference, Philip Marshall, grandson of celebrated philanthropist Brooke Astor, talked about bringing his father to court over the financial abuse of his grandmother in a high-profile court case covered extensively by the media. Marshall said if there had been a means of detection, the financial abuse that befell his grandmother "could have been arrested early on."
With advances in regulations, there are now ways for financial institutions to take action. A new Financial Industry Regulatory Authority (FINRA) guideline called Rule 4512, which goes into effect February 2018, is now making it possible for clients to put a "trusted contact" on their financial transactions. And if a financial institution suspects fraud, a Suspicious Activity Report (SAR) can be submitted to the Financial Crimes Enforcement Network (FinCEN) for the case to be investigated by law enforcement.
There are also internal ways for financial institutions to prevent financial fraud, such as educating older adults in the community on financial fraud, and training tellers and call center staff to recognize signs of financial abuse.
The older adult population is "the client base that's most impacted by these financial scams and by financial abuse, and really, as bankers, it's our obligation to be out there using what we've learned in our practice to give back to others," said Laurel Sykes, of Montecito Bank & Trust.
Larry Santucci, senior industry specialist at the Philadelphia Fed, called for increased collaboration between financial institutions to prevent elder financial abuse and exploitation, drawing on insights from his recent paper that looked at how data-sharing between financial institutions can reduce financial losses for older adults.
"The crime just doesn't happen at one institution – it happens across accounts and across institutions," Santucci said. "Being able to stop or prevent fraud or financial exploitation in one person's account is good but it's not sufficient. And there's still a chance that – if it's not that time and that event – a subsequent event will occur to that person in one of their other accounts."
A key idea going forward from the conference is to encourage banks to give consumers the option to have their information shared securely across financial institutions, to ultimately protect the financial health and wealth of older adults.
The Conference on Aging, Cognition, and Financial Health: Building a Robust System for Older Americans was held at the Philadelphia Fedon November 28 and 29 and featured panels on financial needs of aging populations, ways banks can address those needs, current efforts to improve methods of tracking financial fraud, and importance of data-sharing to prevent financial abuse and exploitation.
More about the results of the conference will be released in coming weeks. The conference was also covered by the Philadelphia Inquirer, the Financial Advisor Magazine, and Barron's.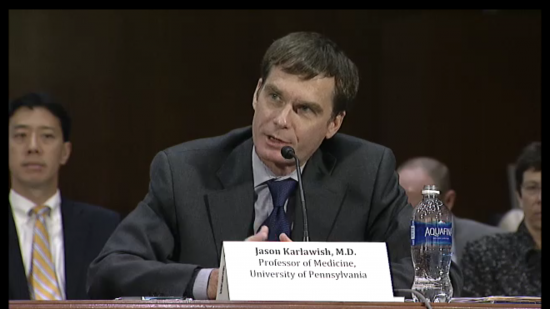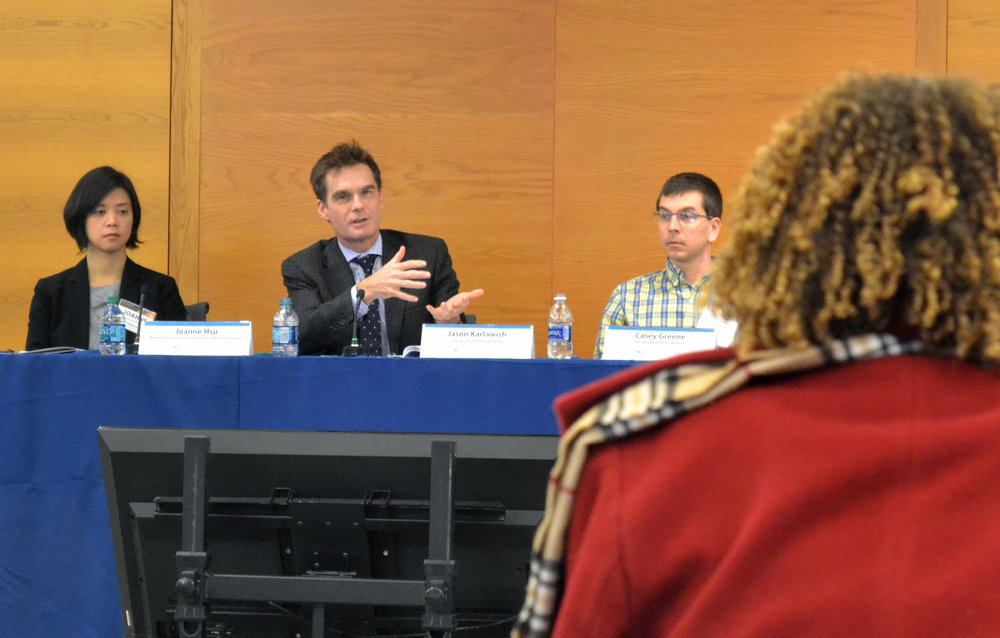 Whealthcare: Or how we can assure older adults' cognitive and financial well being
By Jason Karlawish, MD
Congressional Testimony on World Elder Abuse Awareness Day
Ten years ago, Renee Packel brought her husband Arthur for a new patient assessment at the Penn Memory Center. Not only had he missed paying three consecutive months of condominium fees, he'd either been defrauded or he himself had committed a series of bad financial transactions. Regardless of the cause, he'd lost much of their life savings.
Their life was transformed. She sold their house, they moved to an apartment, she took up the first job of her life, and shelved their retirement plans for travel and leisure; and I diagnosed him with Alzheimer's disease dementia. They only visit he'd make to his beloved Paris would be after he died when Renee scattered his ashes over a grave in Pere Lachaise cemetery.
My message to you is that this did not have to happen.
The sufferings of Arthur and Renee Packel and millions of Americans like them can be prevented, prevented in the same way we can prevent heart attacks, strokes, and hip fractures. They can be prevented because among the first signs of cognitive changes caused by diseases such as Alzheimer's disease, and cognitive aging as well, are changes in our capacity to manage our finances.
Financial transactions – bill payments, cash transfers, account withdrawals, investments – are all also data about our nation's cognitive health. Errors in these transactions, or evidence that others are taking advantage of persons who make them, are data about cognitive function. These data are far more real-world, real-time and arguably cheaper than data from performing and interpreting esoteric cognitive testing or brain scans.
Doctors focus on health. Bankers and financial services professionals focus on wealth. Rarely in the practice of their professions do the two meet. Until now.
Errors in finances and cases of financial fraud and abuse are the strokes, heart attacks and hip fractures of the aging and diseased brain. Yes, they're sometimes justice issues, sometimes criminal issues that need the full force of our justice system brought to bear to address them. But they're typically matters of cognitive health -- even when criminal issues are not in question. And they could be prevented.
The banking and financial services industries are on the front lines of screening for cognitive impairment.
The intimate connections between health and wealth suggest the need for a new model to assure the financial security of aging Americans. We need to fuse health care and wealth care into "whealthcare."
This new model of "whealthcare" fits nicely into the principles of public health:
It requires education and empowerment of the public and financial professionals.
It can use assessment to surveille and screen to detect the problem. Financial institutions have the real-time data showing problems with financial capacity – missed or double bills, odd cash transfers, unsuitable investments. They could deploy technologies to monitor transactions and develop algorithms to predict who may suffer problems.
Interventions in the life space, outside medical settings, can promote both health and wealth. Interventions include changes in regulations and banking and financial services practices that make it routine to monitor, integrate reporting into a health care system, facilitate reporting suspected cases of abuse or fraud, and permit holds on suspicious or worrisome transactions.
Assuring the financial well-being of aging Americans is a public health issue because the failure to address this problem leads to harms to others. Older adults who suffer losses in financial capacity that lead to losses in wealth cannot go back to work to make up the lost money. They lack the time and the capacity to do so. Someone else has to pay, their family or us, the public.
Click here for Dr. Karlawish's presentation on Whealthcare as given at the 2016 National Adult Protective Services Agency Conference.
The public policy mandate is evident and it is in place. The CDC has issued the Healthy Brain Initiative: A national public health roadmap for maintaining cognitive health." The Roadmap plainly explains why cognitive health is a public health priority. Whealthcare should be a part of that roadmap. The National Alzheimers Project Act is law and the U.S. now has a National Alzheimer's plan. First among its five goals are that by 2025 we will discover effective interventions to treat or prevent cognitive impairment caused by diseases such as Alzheimer's disease. You, congress, have been allocating millions to achieve this goal. Today's hearing is a clear opportunity to include the nation's banks and financial services industries in achieving this goal.
I urge you to review the President's Council of Advisors on Science and Technology – PCAST – recent report "Independence, Technology and Connection in Older Age." Chapter 3 — "Technologies to address changes in cognitive ability" — explains how technologies that allow passive monitoring of accounts and online view only accounts can monitor cognitive function and protect older adults' economic security.
I'll close with a summary of its recommendation:
We need to facilitate and promote the creation of industry standards for the collection and aggregation of data. These include requiring financial institutions to adopt commercially reasonable best practices for the use of technologies that detect potential fraud, abuse, or changes in financial capacity; and making rules that will prompt financial institutions that offer online banking to create a means for older adults to give monitoring power to a trusted party without enabling that party to initiate transactions, change the customer's profile information, or otherwise engage in fraud or abuse.

Several regulatory nudges could incent the industry to make passive monitoring and reporting and online view-only accounts part of routine banking and financial management. These include:

The SEC should assure financial institutions that hold a transaction due to suspected elder abuse or fraud or impaired capacity does not violate regulations for efficient and timely execution of a transaction

The FDIC should require financial institutions to routinely offer safe-harbor forms to customers that authorize the institution to share information with a trusted people if an event of fraud or financial abuse is suspected or discovered.

The signatories to the 2013 Interagency Guidance on Privacy Laws and Reporting Financial Abuse of Older Adults should assure financial institutions that complying with State mandatory reporting requirements, and reporting suspected elder abuse and fraud in states that do not have mandatory reporting requirements, does not violate the customer's privacy rights under Gramm-Leach-Bliley Act.

Congress and the Executive Office of the President should convene State governors to identify the challenges and share successful strategies that ensure that suspicious activity reports with information about suspected elder abuse or fraud are transferred to local adult protective services and law-enforcement authorities to protect seniors
If we do these things. If whealthcare becomes a routine part of life in America, Arthur Packel would still have suffered Alzheimer's disease, but he would have live with the disease in his own home, in the company of Renne, and a journey to Paris as a person, not as ashes, would have been among his last memories.
Related Sites
The personal website of Dr. Karlawish offers a glimpse at his past and upcoming speaking engagements and provides more information about his first novel, Open Wound: The Tragic Obsession of Dr. William Beaumont.
Making Sense of Alzheimer's is a creative space for people to understand the past, present and future of Alzheimer's disease. It is an evolving forum, a gallery of ideas, a museum without walls.
"Typical Day" is a photography project that allows older adults living with mild cognitive impairmentto document their lives as they address their condition. The people featured in this project are living in a world that can be difficult to describe in words. Instead, they'd like to show you through images.
The Penn Memory Center, co-directed by Dr. Karlawish, is a single, unified Penn Medicine source for those age 65 and older seeking evaluation, diagnosis, treatment, information, and research opportunities related to symptoms of progressive memory loss, and accompanying changes in thinking, communication and personality.
How bankers and doctors can collaborate to detect 'early warnings' of Alzheimer's (STAT News)
"Banking and medicine have little in common. One is for creating and managing wealth, the other for managing health," Dr. Jason Karlawish writes for STAT News. "Yet together they could help detect and fight the growing burden of Alzheimer's disease and related dementias. I call this partnership of banking and medicine whealthcare."
State measures to prevent elder financial abuse gaining steam (Investment News)
States are increasingly wading into the fight to combat elder financial abuse. The North American Securities Administrators Association released a model rule two years ago that mandates that advisers report suspected abuse to certain state authorities, allows them to stop disbursements from seniors' accounts and gives them protection from liability. To date, 13 states have passed a version of the model act, and roughly 10 more states are expected to follow suit this year, said Joseph Borg, NASAA's president and the securities commissioner in Alabama.
Dr. Jason Karlawish, a professor of medicine, medical ethics and health policy at the University of Pennsylvania, said firms need to change to address potential problems posed by aging and cognitive impairment, which puts clients more at risk of being exploited. For example, a client whose financial literacy has clearly deteriorated — a telltale sign of cognitive decline — may need a different adviser who's trained to handle such issues and communicate with a client in an appropriate way, he said.
Stop Financial Crimes Against Older Americans (Bloomberg)
Patrick Harker, president of the Federal Reserve Bank of Philadelphia, writes in a column that people living with mild cognitive impairment face two major risks from the people in their lives: financial exploitation and fraud. "Banks and other financial institutions can help prevent financial crime against elders at all levels of wealth and income, starting by raising awareness of the problem within their own walls," President Harker writes.
Philly Fed, Penn Memory Center host confab on cognitive decline and financial elder abuse (Philly.com)
At a groundbreaking two-day conference last week, the Federal Reserve Bank of Philadelphia and University of Pennsylvania doctors teamed up to address how banks, brokerages, and financial advisers can recognize and prevent financial elder abuse. The Philadelphia Fed, with the university's Healthy Brain Research Center and the Penn Memory Center, hosted "Aging, Cognition, and Financial Health: Building a Robust System for Older Americans."
Spend Some Money To Make Money, Or The Opportunities Of Whealthcare (Forbes.com)
"The true measure of a nation's wealth is its health and well-being. Our aging nation is in trouble," Dr. Jason Karlawish writes in his Forbes column. "Extremes of wealth and poverty threaten our liberal democracy. It's time to spend some money to help an aging America."
Technological Innovations for Health and Wealth for an Ageing Global Population (World Economic Forum)
The World Economic Forum's Global Agenda Council on Ageing, of which Dr. Jason Karlawish is a member, has examined the nexus of health and wealth among older adults. This executive briefing explores and evaluates technological and social innovations for healthy ageing with applicability to the financial services industry. It builds on the contributions of the Global Agenda Council on Ageing. It is intended for business executives engaged in innovation for older populations, policy-makers involved in designing protocols and policies for older adults, non-profit leaders advocating for the well-being of elder individuals, and academic researchers building the evidence for new technologies for healthy ageing and financial security.
Not Losing it: The Elderly, Cognitive Decline, and Banking (The Economist)
Studies suggest financial decision-making ability tends to reach its peak in a person's mid-50s, after when deterioration sets in. "Age-friendly" banks are beginning to learn how to protect vulnerable older customers. Dr. Jason Karlawish discusses how his concept of "whealthcare" can help physicians and banks jointly help the aging population.
Whealthcare: Preventing financial fraud and promoting Cognitive Health and wealth (Forbes.com)
Dr. Jason Karlawish, co-director of the Penn Memory Center, introduces the concept of "whealthcare" by introducing Renee and Arthur Packel in his Forbes column. Arthur had lost nearly all of the couple's life savings, either through fraud or poor financial decisions. At the Penn Memory Center, he was diagnosed with mild-stage dementia caused by Alzheimer's disease.
In washington testimony, Karlawish calls for federal whealthcare action (Penn Memory Center)
Testifying before the Elder Justice Coordinating Council in April 2016, Dr. Jason Karlawish introduced whealthcare as "a new model to assure the financial security of aging Americans."
"Among the first signs of cognitive changes caused by diseases such as Alzheimer's disease, and cognitive aging as well, are changes in our capacity to manage our finances," putting the banking and financial services industries on the front lines of screening for cognitive impairment, Karlawish said.
The hidden cost of dementia that can steal your life savings (www.nj.com)
Columnist Tony Dearing outlines actions that can be taken by children of older adults to help to protect their parents' wealth, including gaining read-only access to bank accounts or setting up automated bill-paying.
Aging and Cognition Symposium (Penn Memory Center)
The World Economic Forum's Global Agenda Council on Ageing (WEF GAC) and the University of Pennsylvania's Healthy Brain Research Center were pleased to host "Aging and Cognition: Maintaining Economic Security in Later Life" in May 2016.
At the fourth and final symposium in a series presented by the WEF GAC, thought-provoking debates and discussions led by world-renowned leaders in their fields informed and inspired the select audience of 60 attendees from academia, financial services, technology firms, and dementia research.
Building Communities to Fight Elder Financial Exploitation (Medium)
In a September 2016 presentation at the Diversity in Today's Financial Marketplace conference hosted by the North American Securities Administrators Association, Philip Marshall included whealthcare as one of the cornerstones of a community coming together to combat elder financial exploitation.
Cognitive Aging, Health and money: Why we need whealthcare (Leonard Davis institute of health economics)
Ana Bonilla-Martinez, a summer intern with the Penn Memory Center, describes what she had learned about whealthcare by telling the story of Dr. Max Gomez, whose father unknowingly lost his business and all savings.
Contact Us
If you have questions about the concept of whealthcare or suggestions for www.whealthcare.org, use the form below.
Please complete the form below